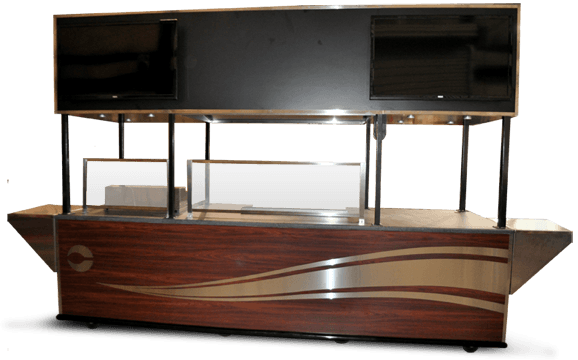 Please note: All carts are custom built to order.
Cart customizations are available that may not be shown. Carts shown may also feature
options not included with the base model.
Custom Concession Carts
4′ – 12′ Length
High quality construction and a variety of custom options make our custom Concession Carts as unique as the vendors who purchase them. Custom concession carts can be designed in a variety of sizes featuring equipment and options for almost any product or service. Individual carts can be purchased to provide a single service outlet or carts can be grouped together to create a sectioned portable restaurant or service area. Our franchise friendly construction options mean we can meet the specifications of any franchise, organization or venue. Top Dog Cart Custom Concession Carts are featured in arenas, convention centers, stadiums, hotels, schools, colleges, universities and more.
CONSTRUCTION
12 gauge aluminum / tube body construction
18 gauge stainless steel or Corian® serving counter
Non-corrosive materials throughout
Heavy duty casters
Rubber corner bumpers / straight bumpers along length of cart
Available in 4'L through 12'L
FEATURES
Dry storage area with recessed doors and locking latches
Complete water system with hand sink,  hot water heater, and water tanks (10 gal fresh / 15 gal. waste)
Marquee for company signage
Wire management hardware grommets
Task lighting
Lift off door hinges
DISPLAY
Sneeze guards
Digital Menu Board, TV, DVD, universal remote control, USB
Stainless steel dispensers
Signage / Graphics
Acrylic counter display
Corian® counter tops
ACCESSORIES
Cash drawer
Detachable side table
COOKING / SERVIING
Insulated stainless steel cooler with drain plug and additional waste water tank
Deep Fryer(s)
Griddle/Grill
Steam Tables / Hot Wells
Tray Racks
Heating Units
Refrigeration / Cold Wells
Refrigerated Sandwich unit
LIGHTING
Pendant lights
Carving station heat lamps
EXTERIOR FINISHES
Wood grain or solid color formica in a variety of finishes
Aluminum
Graphic Wrap or Acrylic Signage
Vinyl Wrap
Don't see the features you would like on your cart? Additional customization is available. Call Kay at 321-972-8200 or 800-282-5002. She is happy to discuss your individual concession cart needs.
Sneeze Guards are custom sized to fit the needs of each cart's equipment and venue. Built to health department specifications, sneeze guards can be permanently attached to the cart or constructed with fasteners to be portable.
TDC Sneeze Guards are constructed of 100% stainless steel. FDA compliant scratch and heat resistant clear Lexan® is used for viewing panes.
We offer three types of sneeze guards:
Partition Style

:
 Single pane(s) of Lexan® framed with stainless steel
Pass-Over Style

:
Allows for service over top of the sneeze guard. Sides and top constructed with stainless steel. Clear Lexan®pane in front. (Top can be used to display food and drinks also).
Self-serve Style

:
 Clear Lexan® panel for use over salad bar and other self-serve areas.
* We recommend you check all state and local health department regulations prior to purchasing any mobile food cart.