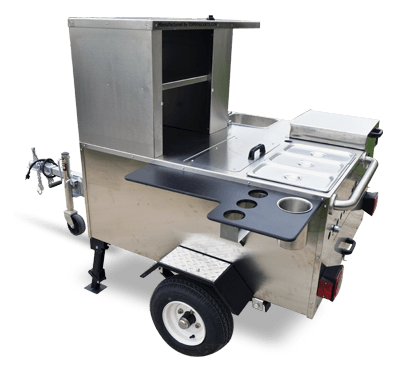 Please note: All carts are custom built to order.
Cart customizations are available that may not be shown.
Carts shown may also feature options not included with the base model.
Vendor Cart
Hot Dog Cart / Mobile Food Cart Model
This hot dog cart is not just for sausages! The Vendor cart is loaded with features like a 15″ propane fueled griddle and insulated storage. Engineered with precision suspension, it's also easy to manage and tow. Don't be fooled by the compact design. You can serve a variety of foods with this cart – from hot dogs and sausages to tacos and cheesesteak. Custom options and accessories are also available.
CONSTRUCTION
12-24 gauge 304 stainless steel construction.
Precision flow jet cut powder coated and brushed stainless steel.
Stainless steel mirror finish exterior.
Non-corrosive materials throughout.
Stainless Steel exterior (can wrap with graphics if desired)
DIMENSIONS
40" W x 48" L / Weight: 400 lbs.
TOWING / SUSPENSION
Engineered for perfect balance, easy cart management
Towable and pushable
COOKING
Blanched ground carbon steel 1/2" plate
1 full-size steam table
Holds up to 6 pans (NSF Certified utensils, pans and lids ) 
Propane heat cooking (propane tank not included)
Concealed propane tank compartment holds 20lb. tank. (All propane systems meet National Equipment Standards)
2 Stainless burners – 12,000 BTUs each (1 under griddle, 1 under steam table)
15" Griddle
WATER SYSTEM
Self-contained, pressurized hot and cold water system (3 gal. fresh / 5 gal. gray)
Quick drain valve Stainless steel sink(s)
12V battery
Thermo-coil hot water supply
STORAGE
High capacity ice bin. Measures 18″x9.75″x13″. Holds 120 soda cans/frozen food
Cooler insulated with rigid urethane insulation for maximum ice life
2 compartment Bain Marie condiment tray over cooler
30″x42″ of dry storage (12 cubic feet)
CUSTOM UMBRELLA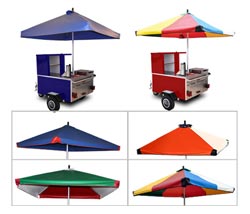 CUSTOM MADE WEATHERPROOF MARINE GRADE VINYL UMBRELLA
Hand made with durable marine grade vinyl in your choice of up to 4 colors. Umbrella pole constructed from lightweight aluminum.
Dimensions:
76″ L X 7″ W X 7″ H
COLORS:

CUSTOM GRAPHICS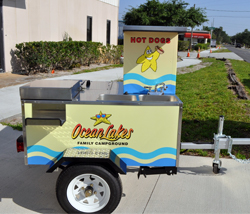 Add an identity that's all your own. Our on-site graphic design team can add a custom designed vinyl wrap or decals to your mobile food cart.
HOT DOG SLED

Stainless steel hot dog sled holds up to six hot dogs or sausages. Makes adding condiments or arranging orders a cinch! Fastens to .5″ or .75″ thick surface edge of your hot dog or mobile food cart.
SNEEZE GUARD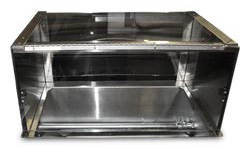 THREE PORT CELL CHARGER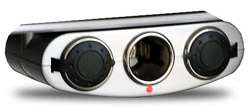 Stay powered! Three port cell phone charger has two twelve volt plug-in accessories plus one standard cigarette lighter port. Battery saver circuitry keeps your battery from running down. Comes with 12 volt adapter.
Dimensions:
7.5″L X 6″W X 3.5″H
SPARE TIRE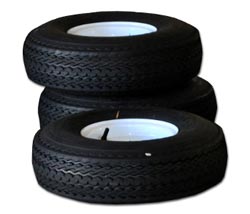 570×8 / 715 lbs capacity / bolt pattern. 4 on 4″ rim.
Dimensions
: 18″ X 6″
One tire per order.
CHIP RACK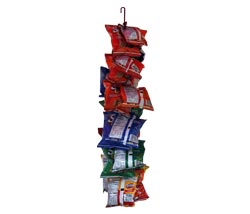 The hanging chip rack conveniently displays bagged items. You can even hang it from your umbrella! Dependable flat clip style. Wire frame. (chips not included)
Dimensions:
30″L X 5″W X 1″H
STEREO SYSTEM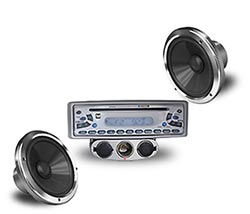 Our Marine Grade Stereo System is 200 watts of crisp outdoor sound. AM/FM, CD, MP3. UV Resistant face and trim ring. Corrosion Resistant ABS construction. 200 Watts peak (50×4) WMA receiver & media player. Two 6.5″ dual cone speakers. Electronic detatchable face. Conformal coated circuit boards. 1.0 D in EDP rust resistant chassis and sleeve iplug interface adapter. 5 selectable EQ curves ( pop, jazz, classic, beat, rock. Clock. CD anti-shock mechanism / 3 beam laser pick-up. MP3/ WMA displays ID3vl tags. Installation instructions. Speaker wire and rust resistant mounting hardware included.
Dimensions:
7″ L X 7″ W X 2″ H.
* We recommend you check all state and local health department regulations prior to purchasing any mobile food cart. 
It is your responsibility to contact the health department in your area for the specifications required to operate a mobile food cart business.
Questions? We're here to help. Call 888-282-5002