Mobile Food Business Marketing
If you are planning a mobile food business you're probably wondering what you can do to attract more business. There are many ways for you market your mobile food business beyond the obvious strategies like picking a good location. We've provided the basics for you here.
If you have already established your business and would like to expand your marketing efforts, contact us. We provide full marketing and graphic design services for mobile food businesses.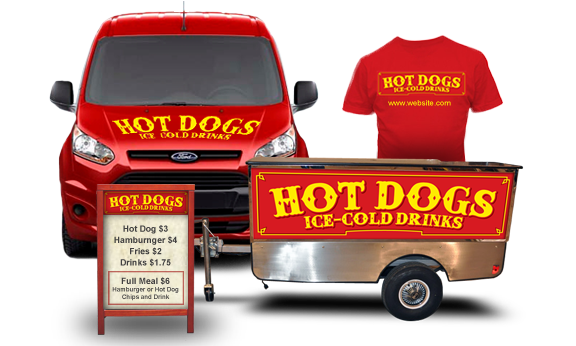 Mobile Food Business Marketing Basics
Your Personality
In the food vending business great food is as important as the personality serving it. Most people remember someone who is outgoing, energetic and friendly. Word of mouth is THE BEST advertising. First time customers become long time customers when they have a good experience. They will also recommend your business to others.
Accessorize Your Cart
The aroma of delicious food always draws a crowd toward mobile food carts. But what if you're not the only one cooking? Accessories such as a sign, umbrella, lights and music can help you stand out from the competition. Some accessories serve several purposes too. An umbrella, for instance, adds character and excitement to your cart. It also provides shelter and safety.
Your Business Name
If every mobile food vendor called their business "Joe's Hot Dogs," it would be hard to tell them apart. That's why your company name should be exclusive to you.
As you brainstorm company names, check the internet to make sure they aren't already in use. Avoid associating yourself with sports teams, characters or schools unless you have made arrangements with the organization to use their name and likeness. You can be fined or forced to change your company name if it is found in violation of copyright or trademark law.
When deciding on a name, you may want to include some indication of what you do. For example, "Al's Place" doesn't tell you much about Al's business. "Al's Eats" tells you Al serves food. Choosing a name that is easy to remember and descriptive will help brand your business.
Once you have a business name, you may choose to trademark it. This protects your business name so others can't take or use it without your permission.
A Well Planned Menu
The purpose of a mobile food business is to quickly serve delicious food. For beginners, focusing on one or two specialty items (such as tacos or sausages) will make it easier to get accustomed to fast food service. If your location features more than one mobile food vendor, take note of their menus. Offering something unique to the area will help you attract more customers and create your niche in the marketplace.
If you plan to offer catering services, you should have business cards and a take-away catering menu& available to hand out. If you have room, you can place these on your serving counter.
Custom Marketing Services
For businesses interested in expanding beyond one location, catering and/or franchising, maximizing your exposure in the community is essential. There are a number of creative and conventional ways to do this, but for starters you should focus on a few key marketing tools: A logo, business cards, menus, social media accounts and a website.These tools provide you with the foundation needed for any successful marketing plan.
If you would like assistance with any of these items, we offer complete marketing services for mobile food vendors.
Questions? We're here to help. Call 888-282-5002