Start a Mobile Food Business in Florida
If you're planning to start a mobile food business in Florida, you can use this page as a guide for getting your license, passing inspection registering and marketing your new business.
Contact the Health Department
Before you purchase any mobile food cart, contact the health department in your county.
There are equipment requirements your cart will have to meet in order to pass health inspection. Knowing these requirements before you purchase a cart is important. It can be difficult and expensive to modify a mobile food cart after it's been built and some features can only be added during construction.
If you have already chosen the mobile food cart you plan to purchase, share this information with the health department during this first contact. Bring photos and details about the cart with you. This will allow the health inspector to ask questions about the cart and discuss any additional equipment you may need to pass inspection.
Find your local health department
Once you have verified with the health department that your cart will meet all requirements, you can proceed with purchasing your mobile food cart and the steps to getting your license.
Questions? We're here to help. Call 888-282-5002
Getting Your Mobile Food Service License
What You Will Need:
Proof of Commissary
Schematics or a floor plan of your cart
At least two photos of your cart
Safe Food Handling Certification
Note: Fees and requirements for licensing a mobile food cart in the state of Florida are provided for information purposes only and may change at any time.
1. Proof of Commissary
The Department of Business and Professional Regulation and/or the Department of Agriculture licenses commercial commissaries in the state of Florida. To operate a mobile food business, you must provide proof of a commissary membership.
The cost of a commissary membership varies from city to city. Fees can range from $400 to $800 per year with additional storage fees for your cart and food.
2. Plan Review
If you purchase a new or used cart that has not been licensed in Florida within the last 12 months, you will be required to submit a floor plan (schematics) of the cart you are purchasing to the Health Department and Department of Agriculture / Department of Professional Regulation. This process is called a "Plan
Review".
A Plan Review certifies your cart will meet all state mobile food business regulations. There is a one-time fee to submit your cart plan for review. This fee is paid directly to the Department of Business and Professional Regulation. You have the option to apply for your license only or to apply for your license and plan review at the same time. You should apply for plan review and your license at the same time to make the process easier.
When purchasing a Top Dog Cart, you will be provided with schematics, specifications and photos of your cart that can be used for plan review.
The health inspector may have questions about your cart during Plan Review. Don't guess the answers. Contact your cart manufacturer for the information.*
If you have purchased a Top Dog Cart, you may call Kay at 321-972-8200 for assistance.
3. Photos
You will be required to provide at least two photos of your cart to the health department. These photos must show the equipment and propane tank area. Though you are only required to provide two photos, the more you have available the better. If you are purchasing a Top Dog Cart, we will provide you with several photos of your cart at various angles.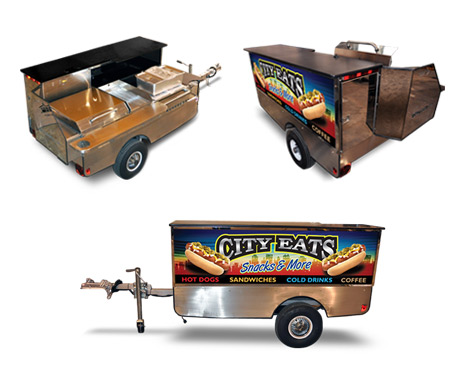 5. Completing Your License Application
Before submitting your application, make sure you have:
Proof of Commissary Form (DBPR HR-7022) and a copy of the commissary's water bill
Cart schematics and at least two photos of your cart
Payments for your license and plan review fees.
You can download the application from the Department of Business and Professional Regulation (DBPR) website or submit your application online.
A full year's license is $397.00 and a half-year is $228.50. Licensing fees are paid directly to the DBPR district office for your county. Be sure to locate your district office before sending your payment.
After completing your application and payments, the Department of Business and Professional Regulation will contact you to confirm your application. If there is any missing information, they will let you know. Missing information or required cart features will delay your license. This is why you want to make sure your cart will meet all requirements before you submit your license application.
Once your license requirements are met, a state health inspector will contact you to schedule your cart inspection.
Passing Health Inspection
What You Will Need:
Proof of Commissary form (DBPR Form 7022)
Your copy of the division approved and stamped drawing (blue print) and specification worksheet (will be emailed directly to you from the State of Florida)
Once you've obtained your license, you are ready to submit your cart for health inspection. This inspection will take place at your commissary location.
Your commissary may have a checklist of items needed for your cart inspection. Typically, the inspection includes reviewing food preperation areas, cold storage, sink(s) and water tanks. Periodically throughout the year, inspections will be conducted randomly to review your cart cleanliness and maintenance.
Opening Your Business
What You Will Need:
A location
Business Name
EIN
Vehicle registration
Liability insurance
Get a FREE mobile food cart quote with delivery included!