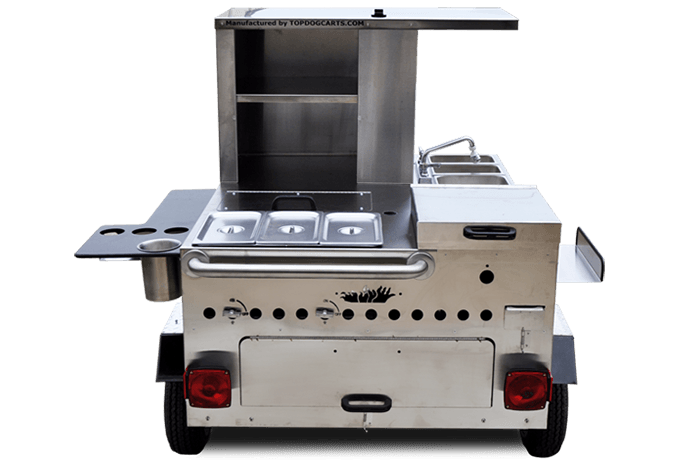 Carts shown may feature options not included with the base model. Some options shown are not available on all carts.
Vendor Cart
Hot Dog Cart / Mobile Food Cart
Don't be fooled by the compact size of this hot dog cart! The Vendor cart is loaded with high efficiency features. Cook hot dogs, sausages, cheesesteak or grilled cheese… what ever your specialty! The Vendor cart is a fully functioning kitchen perfect for locations with limited space.
Dimensions: 40.5" W x 48" L x 35" H to cooking surface / 57.25" H to top of bread box.
Weight: 400 lbs.
Vendor Cart Standard Features
Dimensions: 40.5" W x 48" L x 35" H to cooking surface / 57.25" H to top of bread box.
Weight: 400 lbs.
20-16 GA 304 stainless steel construction
Uni-body steel painted frame with aluminum floor
Precision flow jet cut stainless steel brushed finish exterior
Non-corrosive materials throughout
Built and Manufactured in the USA
15" flat top griddle (3/8" thick plate)
1 standard steam table that holds 1 spillage pan.
Holds up to 6 food pans (NSF certified utensils, food pans and lids)
Propane heat cooking (propane tank not included)
Concealed propane tank compartment holds a single 20 lb. tank (All propane systems meet National Equipment Standards)
2 burners – 12,000 BTUs each (1 under griddle, 1 under steam table)
Self-contained, pressurized hot and cold water system (3 gal. fresh / 6 gal. gray)
Quick drain ball valve
Stainless steel sink(s). 1-4 available, check with your local health department to see what they require.
12 volt battery and charger
Thermo-coil hot water supply – water line runs past the burners to heat the water.
High capacity ice bin cooler with designated quick drain ball valve
2.75 cubic feet cold storage – 19.5" x 18.5" x 13"
Cooler insulated with rigid and foam urethane insulation for maximum ice life
Built-in cold condiment tray with two 1/6 size poly food pans, inside cooler
8.5 cubic feet dry storage – 26" x 18" x 22" bread box area and 40" x 13" x 8" below cooking surface
Engineered for perfect balance, easy cart management
Towable and pushable
Cushioned suspension for easy travel
Removable tow bar for 2" ball
Safety chain harness attaches to vehicle when traveling
Tail Lights
Removable tow bar with swivel wheel
Two retractable jack stands, for added stability and leveling on-site
Instructions for operating and maintaining your Top Dog Cart.
Also Included With All New Top Dog Carts

Cart Schematics
Cart schematics and specifications for passing health inspection.

VIN Plate & Decals
 Single metal plate stamp plus 3 printed decals in different locations within the cart.

MSO / Bill of Sale
Manufacturer's Statement of Origin (vehicle title) and bill of sale for registering your cart with the DMV.

Business Guides
Guides to help you with purchasing a cart, getting licensed, passing health inspection and more.
Select option(s) to view details. Looking for an accessory not shown? Ask us if it's available.
UMBRELLA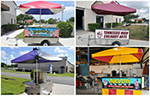 Made-To-Order commercial umbrella constructed of marine-grade vinyl. Umbrella pole constructed from lightweight aluminum, 1-1/2" diameter.
CHOOSE UP TO 4 COLORS: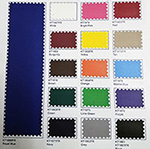 HOT DOG SLED


Stainless steel hot dog sled holds up to six hot dogs or sausages. Makes adding condiments or arranging orders a cinch! Fastens to .5" or .75" thick surface edge of your hot dog or mobile food cart. Dimensions: 16.5"L x 6" W x 2"H
MENU BOARD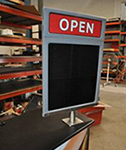 Customizable front and back message areas, 258 character set and mounting hardware (included)
CHIP RACK

The hanging chip rack conveniently displays bagged items. You can even hang it from your umbrella! Dependable flat clip style. Wire frame. (chips not included) Dimensions: 30"L X 5"W X 1"H
STEREO SYSTEM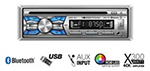 CD/MP3, AM/FM and USB Receiver. Bluetooth v2.0 enabled phone. Remote control, speakers and antennae included.
POWER-TO-GO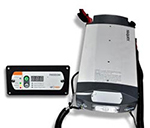 Xantrex 1,000 watt inverter/charger system portable power for additional appliances like a fan, a light or a small blender. 1000 watts, 110 volt. *NOT needed for cooking on the cart.
COOLER RACK EXTENSION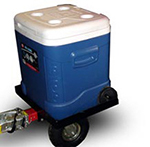 Room for an additional cooler or small refrigerator added to the tow bar.
SNEEZE GUARD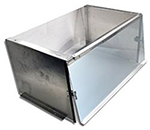 Constructed of 18 GA stainless steel and heat resistant Lexan™. Hinged door for easy access to the steam table & food pans.
12V POWER OUTLET


Two USB ports and one 12 volt power port make it easy to keep your cell phone charged while on-site! Can handle up to 2 amps at a time. Includes overload protection.
SPARE TIRE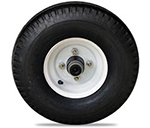 715 lb. capacity, 5.70 x 8, 18" overall diameter, 6" width, 4 on 4.0" bolt pattern, white.
See The Vendor Cart in Action!
We recommend you check all state and local health department regulations prior to purchasing any mobile food cart. 
It's your responsibility to contact the health department in your area for the specifications required to operate a mobile food cart business.