Boiled Peanut Cart
Specialty Food Cart
Our Boiled Peanut Cart is perfect for boiled peanuts, low country seafood boils or soups. Easy to tow, stainless steel construction and precision balance give you the freedom to serve your secret recipe almost anywhere.
Carts shown may feature options not included with the base model.
Some options shown are not available on all carts. Looking for an accessory not shown? Ask us if it's available.
Boiled Peanut Cart Standard Features
CONSTRUCTION
20-16 GA stainless steel construction
Stainless steel brushed finish exterior
Uni-body steel painted frame with aluminum floor
Non-corrosive materials throughout
DIMENSIONS / WEIGHT
40" W x 48" L x 42" H  / Weight: 450 lbs.
COOKING
2 stainless steel burners, 12,000 BTUs each, with individual control knobs
2 NSF approved aluminum 40 qt. / 10 gal. stock pots with lids
Propane heat cooking (propane tank not included)
Concealed propane compartment holds one 20 lb. tank (All propane systems meet National Equipment Standards)
DRY STORAGE
13" x 9.5" x 40" enclosed storage
TOWING/SUSPENSION
Towable and pushable
Cushioned suspension for easy travel
Removable tow bar with swivel wheel
SAFETY
Safety chain harness attaches to vehicle when traveling
Tail Lights
Removable tow bar with swivel wheel
Two retractable jack stands, for added stability and leveling on-site
Custom Options
Select option(s) to view details.
UMBRELLA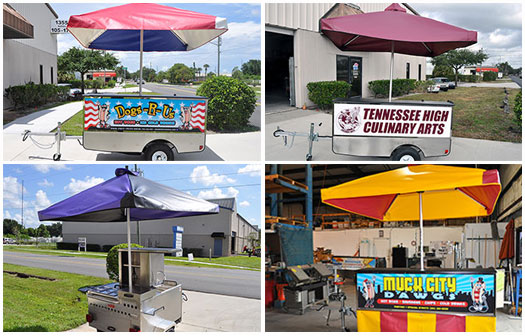 Made-To-Order commercial umbrella constructed of marine-grade vinyl. Umbrella pole constructed from lightweight aluminum, 1-1/2" diameter.
CHOOSE UP TO 4 COLORS: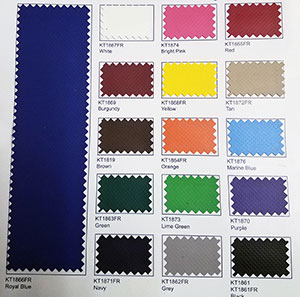 CART GRAPHICS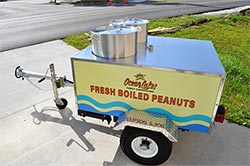 Add an identity that's all your own. Our on-site graphic design team can add a vinyl wrap or decals to your mobile food cart.
SINK / WATER SYSTEM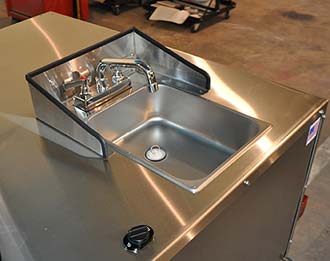 Self-contained, pressurized hot and cold water system (3 gal. fresh / 6 gal. gray). Quick drain ball valve. Stainless steel sink(s). 12 V Battery. Thermo-Coil hot water supply.
We recommend you check all state and local health department regulations prior to purchasing any mobile food cart. 
It's your responsibility to contact the health department in your area for the specifications required to operate a mobile food cart business.