Sno-Cone Cart
Specialty Food Cart
This sno-cone cart is a real crowd pleaser on a warm day. And ours has loads of features to keep your customers cool. The sno-cone cart is equipped with a heavy duty sno-cone machine (500 lbs. of ice an hour!). There's also plenty of cold storage so it's great for serving ice cream too! Plus precision balance and safety make it easy to tow and manage.
Carts shown may feature options not included with the base model.
Some options shown are not available on all carts. Looking for an accessory not shown? Ask us if it's available.
Sno-Cone Cart Standard Features
CONSTRUCTION
Stainless steel & aluminum construction
Uni-body steel painted frame with aluminum floor
Non-corrosive materials throughout
Two side panels can be red or blue… you choose!
DIMENSIONS / WEIGHT
42" W x 60" L x 42" H
Weight: 450 lbs.
SNO-CONE MACHINE
Arctic Blast Sno-Cone Machine with top mount ice shaver
Machine dimensions: 16" W x 14" D x 24" H
1/3 hp motor
500 lbs. of ice per hour
WATER SYSTEM
Self-contained, pressurized hot and cold water system (10 gal. fresh / 15 gal. gray)
Quick drain ball valve
Stainless steel sink(s). 1-4 available, check with your local health department to see what they require.
Two 12 volt deep cycle batteries and charger
2.5 gallon hot water heater
On-demand water pump
3,000 watt power inverter
SAFETY
Safety chain harness attaches to vehicle when traveling
Tail Lights
Removable tow bar with swivel wheel
Two retractable jack stands, for added stability and leveling on-site
TOWING / SUSPENSION
Towable and pushable
Cushioned suspension for easy travel
Removable tow bar for 2" ball
Custom Options
Select option(s) to view details.
UMBRELLA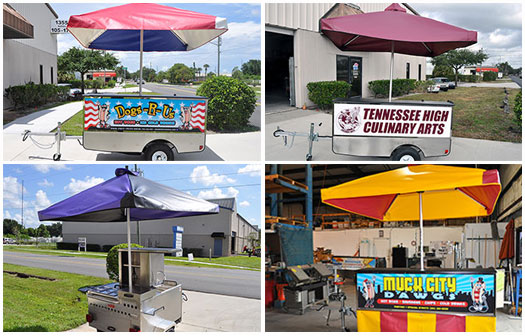 Made-To-Order commercial umbrella constructed of marine-grade vinyl. Umbrella pole constructed from lightweight aluminum, 1-1/2" diameter.
CHOOSE UP TO 4 COLORS: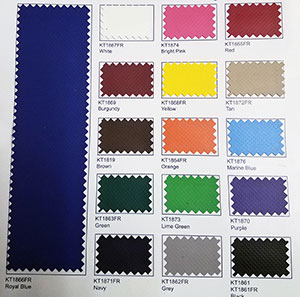 TABLE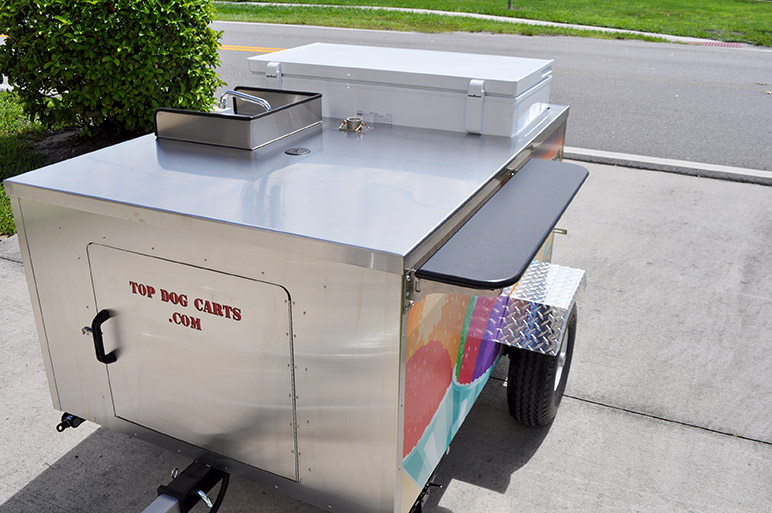 Table of durable marine board is attached to the side of the cart. Table hinge folds down for travel. 34" L x 7" W
CASH DRAWER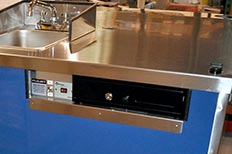 Lockable, manual cash drawer
CUSTOM GRAPHICS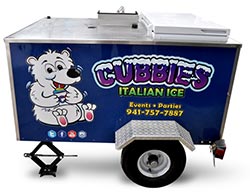 Add an identity that's all your own. Our on-site graphic design team can add a vinyl wrap or decals to your mobile food cart.
We recommend you check all state and local health department regulations prior to purchasing any mobile food cart. 
It's your responsibility to contact the health department in your area for the specifications required to operate a mobile food cart business.