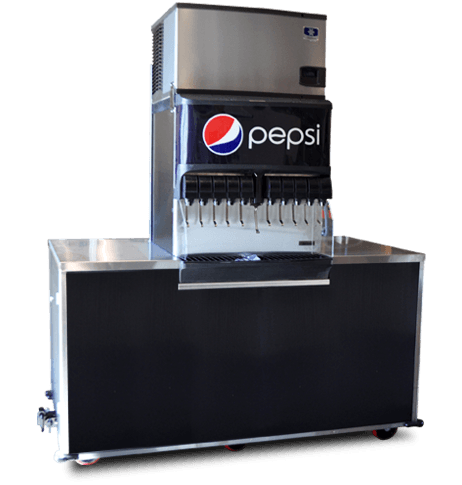 Please note: All carts are custom built to order. Cart customizations are available that may not be shown.
Carts shown may also feature options not included with the base model.
Portable Drink Cart
Concessions Support Cart
The portable drink cart can draw or follow a crowd. Completely self-contained, it can be stationary or easily moved to control high traffic concession areas. Serve hot or cold drinks anywhere. Features include an insulated waste water tank. This cart is hard plumbed – no PVC!
(We can also build a cart around your existing proprietary equipment – just bring it to us.)
Portable Drink Cart Specifications
12 GA aluminum / Tube body construction
18 GA stainless steel countertop
Support panel beams for regulator and pumps
4 electrical plugs / 2 circuit boxes
Two 30 Amp plugs on outside of cart
Ice machine support brackets
Insulated waste water tank with drain and water fill spout. Hard plumbed – no PVC
Six 6″ heavy duty casters (4 swivel / 2 rigid)
Closed back panels with venting for CO2
stainless steel trim on sides and edges
4 black rubber corner bumpers
Removable hinged tow hitch
Access panel doors on three sides of cart with lift-off hinges, cross door support and locking latches
Inset for soda dispenser
Shelf with hose guides for BIB boxes
Three sides of cart finished with patterned Formica
Custom Graphics or choice of finish
Additional options are available. When requesting a quote, please indicate if there is any additional equipment you are interested in.
We recommend you check all state and local health department regulations prior to purchasing any concession cart.