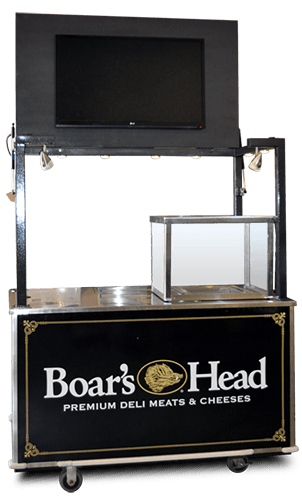 Client: Boar's Head / OCCC
Location: Orange County Convention Center – Orlando, FL
Job Requirements: Rebrand existing, non-functioning concession carts to Boar's Head.
Solution: Add a portable pass-over sneeze guard. Rebrand cart with new graphics. Replace marquee / posts with a digital menu display with wire management grommets. Add refrigerated cold well. Replace non-functioning electrical wiring. Replace cart bumpers, door hinges and handles, water pipes and drains. Add a custom tow hitch.
Digital Menu Display / Marquee
Replace marquee / posts with digital menu display. Add wire management grommets.